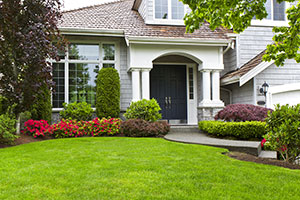 The first long glimpse of a house, as a potential buyer steers toward the curb and then slows to a stop, is a critical moment. It could be an experience of love at first sight or immediate dislike—or something in between. As the seller, you definitely want the person who's shopping for a home to begin developing a good impression of your house before they step out of the car or click on your online listing. Here are five ways to ensure that happens.
1. Make Your Front Door Look Fantastic.
Do something special with the front door. It's not just the barrier blocking the entrance to your home; it's the focal point of an artistic composition—and it needs to be worthy of that focus. Give it a splash of color, polish the metal fixtures, or add an accent in the form of a heritage wreath or decorative knocker.
2. Do Some Landscaping.
The lawn has to be lush and green and recently mowed—but that's not enough. Plant a fringe of flowers along the edge facing the house, or install a low hedge at the curb or sidewalk. A carpet of green is impressive but not necessarily inviting. Adding an extra element completes the picture and transforms a house into a home.
3. Add Inexpensive Accents.
Short on time and money? Just add pairs (two or four) of big stone flowerpots as accent pieces along the walkway or (if there's room) on either side of the porch. Insert some colorful flowers, and—voilà—your home's exterior view now includes new shapes to delight the eye.
4. Enhance Evening Curb Appeal.
Add decorative lighting to improve the evening curb view. Install low-voltage lighting—or solar lamps—along the driveway or along the walkway to your front door. Invest in a premium-quality front porch light fixture.
5. Don't Forget the Roof.
Yes, remedying any visual impediments in the roof area can be pricey—but doing nothing may not be a viable option if you want the house to sell for its value. If there are a few loose shingles marring the overall view, or if the rain gutter is twisted and uneven, get a quote from a roofer for the cost of a touch-up.
If the interior of your home is perfection, but its curb view is lacking, your house may not attract the attention—and the offers—it deserves. Before the "For Sale" sign is erected, do whatever is necessary to ensure that potential buyers fall in love with the view when they stop in front of your house.